Sam sand dunes:Jaisalmer

Sam sand dunes are what defines Rajasthan in actual terms.
Not green at all but still fascinating.
No hills or rivers but still touches the soul.
Isn't this part of Rajasthan beautiful in it's own way.
When we talk about Rajasthan, first thing which comes in our minds is a dry, hot place. Most part of which is covered by a desert. That desert.
Forts, palaces and monuments of Jaisalmer are beautiful and show us how rich Indian architectural style was in ancient times as well.
Jaisalmer is known for several forts and palaces that have unique architectural features, which are decorated with fine and delicate works by ancient craftsmen.
Which is not wrong in any way, because it covers around 55-60% of the geographic area of Rajasthan. I have been living in Rajasthan for last 30 years and even then i could not visit Jaisalmer till now.
It's not green like South Rajasthan. Neither does it have any hills or Aravali range.

This time, cousins gathered the day before the tour, and did not inform me for the plan. As they knew that i won't be ready if they tell me in advance. Because I was preparing for chiefmate exams, so i would refuse to go with them.
But the night before we left for trip, they told me that they are going on a road-trip and i will also be coming with them. I tried to persuade them that it is not possible because of my exams, but all in vain
So finally we decided to go to Jaisalmer. It's around 6hrs drive from my place. Now Jaisalmer also has it's domestic airport with connectivity from Major cities like Delhi, Jaipur, Mumbai.

Planned for Sam sand dunes

As we had only 2 days for this trip so we decided to visit only Sam sand dunes and Kuldhara village(famous for being haunted).
So we left home for Sand dunes at around 11 in the morning. Five of us were there in car. After tea break stoppages and a few other stops, we reached Jaisalmer at around 5 in the evening.

The only way to reach Sam sand dunes and Kuldhara is by road. Car can be rented from Jaisalmer or otherwise bus service is available from Jaisalmer at frequent intervals. Sam sand dunes are around 40kms from Jaisalmer.

Beware of scammers in Sam sand dunes
As we stopped our car at roadside in Jaisalmer so as to stretch our legs, and confirm the way to Sam sand dunes also. as we came out of the car, another car stopped just ahead of us and 4 people came out of that car and started walking towards us.
We got a bit nervous, that maybe we might have broken some local rules or done something which the locals consider inappropriate.
They came to us with brochure offering combo pack of Camel safari, Jeep safari, hotel room, dinner and breakfast at cheap rates. We inquired about the rates and then grabbed one brochure.
So as we were leaving, the Paan-wala standing nearby warned us not to trust these people. As there are many Lapka's and scammers in the Jaisalmer and Sam sand dunes area. First they will lure us with cheap rates for everything mentioned above, and then they will rob us. Because most of the promises they make are fake.
They will put us in a hotel with much lower standards then expected. Then there are no services in the hotel like cultural dance, breakfast, dinner, as promised.
So please beware of these scammers while going to Jaisalmer or Sam Sam dunes. Book a nice hotel either online, or you can just go to the hotel and book yourself at the time of checkin itself.
So never mind, we left for Kuldhara Village. It was 35-40 mins drive from Jaisalmer.

Kuldhara village
At around 6pm we reached Front get of Kuldhara village. And it was getting a little dark so we were a bit scared about being at the most haunted place, that too during night time. But somehow we gathered some courage and requested the guard to allow us inside.

He had no problem allowing us inside but said to come back quickly. As it was getting dark and he himself does not stay at the gate after it's dark. As according to him, its time the ghosts come and start roaming around in that village.
Well the last line of guard worked like the icing on the cake. But anyway, there was no other option.
We bought entry tickets and proceeded inside with our car. As the village is around 1km inside of the main gate. We were driving slowly and there was pindrop silence inside the car. As all of us were already scared about what's going to happen with us, within the very next hour.
Maybe some ghost come and jump in front of car, but that was not a problem if all of us are inside the car and the gates are locked. Obviously he can't do anything. There is no way he can open the door.
Second thing we were scared about was that once we get down of the car. Maybe we start disappearing one by one. If four of us are together and the fifth one is standing a bit far from us where we can't see him. And the ghost comes, start dragging him and then takes him somewhere we can't find.
Being too far from our home we don't know the behaviour of the ghosts in Kuldhara village. In any case we decided to remain together while we are inside the Village And leave as quickly as possible.
So finally we reached the village, came out of the car. As we were looking around of something suspicious. We could not find anything like that. Except one kid, standing in front of the village, around 7-8 years old. Who was a shepherd it seemed, and was in a hurry to return home.

It was a little scary experience, not because of what we saw, but because what he have heard about this place. Maybe we could not see anything like that cause it was still not completely dark. but it was a nice experience. And the place is really scary during daytime also, if you come alone.

Sam sand dunes
So after spending one scary hour in the ruins of Kuldhara village we left for Sam sand dunes. As you approach the dunes area, there are hundreds of resorts. Which provide more or less same facilities. Which include buffet dinner, breakfast, cultural programmes, folk dance etc.
But the quality of above all depends on the resort. It gets confusing to choose one out of these hundreds of resorts. You can go for "Chokhi Dhani" desert camp, in case you are looking for a 4-5 stars experience. Or otherwise any resort on the main road will do good for that matter. The only thing is that don't fall in the trap of the scammers, luring for hotels at cheap prices.
In almost all of the resorts, the cultural programmes start at around 08PM and last till 10PM. So ensure to reach before that and enjoy these programmes.
Though Chokhi dhani was going out of our budget, so we chose KK resorts. Which is a decent resort. Food is really delicious with a lot of variety. A buffet system for the dinner, which include a lot of Rajasthani dishes like Ker-Sangri, Kheechdi, choorma and a few others. The rooms(camps) are pretty clean and beautiful with all amenities included. We checked in at around 07:30PM. Got fresh and came back to the yard, where all the programmes are scheduled.

Cultural programmes at resort
After 15-20 mins of waiting, it started. First with Rajasthani folk songs. Which are treat to the ears believe me. As the voice and their singing is too good on that too on a live performance. After folk songs the kalbelia dance and then the group dance in which all of the spectators can participate.


Camel and Jeep safari at Sam sand dunes
Next day morning, at around 7. Our camel safari was arranged by the resort. The place for safari was not actually any far from the resort. It was just on the opposite side of the road.

The cost for camel safari was included in the Hotel tariff itself. Tariff for single person was around 2600 INR. Which included room, dinner, breakfast and camel safari. While Jeep safari we booked separately, which did cost around 1800 INR for 5 persons.
So, In the morning, first we went for camel safari. Max 2 persons allowed on a camel, no tripling allowed. As they are already paid by the resort and the cost is covered in the resort booking. So no need to pay extra, unless you want the camel to dance or show some extraordinary skills. But that's totally upto you.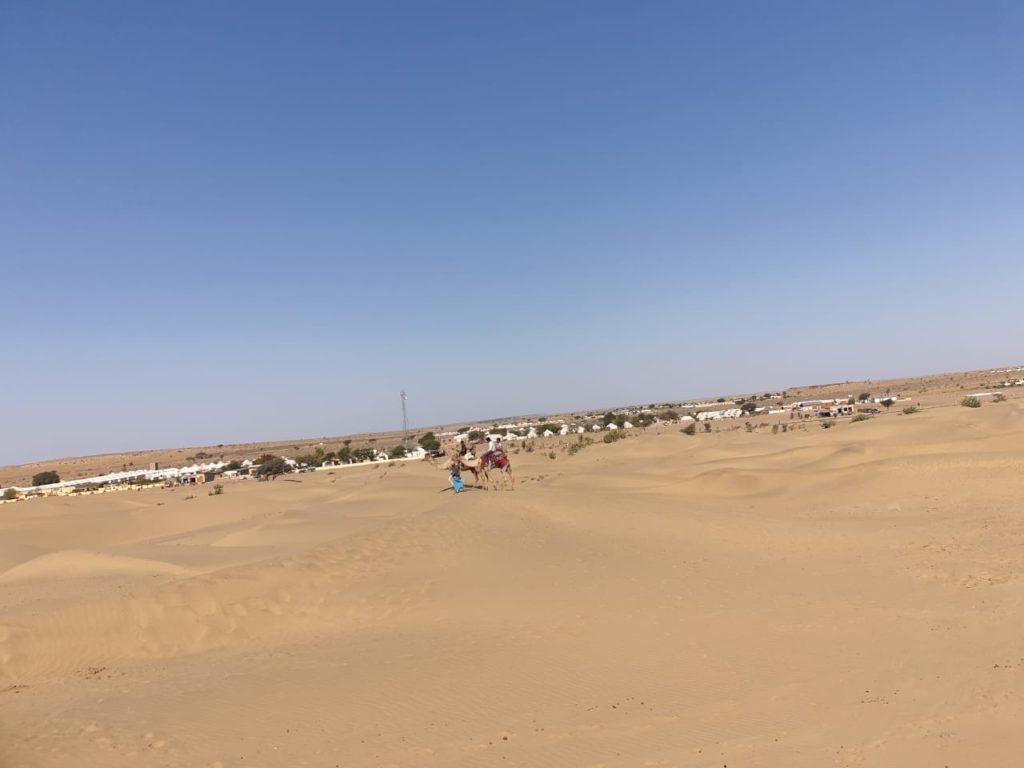 After camel safari, we left for Jeep safari. In Jeep safari the Jeep driver takes you to the bigger sand dunes in a 4×4 Mahindra Thar Jeep. They take you to the ups and downs of the sand dunes in a speed, which is really thrilling and adventurous. For us it was really a lifetime experience.

How to reach

Sam sand dunes are 40 kms from Jaisalmer. While you can reach Jaisalmer by any of the following modes.
By air: Jaisalmer airport is the nearest airport, operating with minimum flights. So in case you don't get a flight to Jaisalmer, you can take a flight to Jodhpur. From there cab, bus or train everything is available to Jaisalmer.
Train: Jaisalmer railway station. Connected well with all major railway stations.

By road: 40Km by road from Jaisalmer.