Ramdevra Temple:Jaisalmer
If you belong to Rajasthan, then you must have heard about Ramdevra temple. The beautiful thing about Ramdevra temple is that devotees from all castes, communities and religions gather at the time of fair to pay their homage.


Hindus consider him the reincarnation of Lord Krishna, whom they call "Baba Ramdev". While for Muslims, he is "Ramshah pir", who convinced them of his divinity by showing them his magical powers.

A fair is held in the month of August-September. So People gather from Rajasthan, Punjab, Haryana, Gujrat, MP and other parts of India. A large number of devotees attend it, who come in large groups from far and wide.

Baba Ramdevji is so revered in Rajasthan, that most of the devotional songs and bhajans are devoted to him. Ramdevji bhajan are the most popular devotional songs in Rajasthan.

The name of the village is also Ramdevra, which was established by Saint Baba Ramdev Pir . Baba Ramdev pir was the son of ruler of Pokhran Ajmal Singh Tanwar.

People from all over Rajasthan come here walking to ask for a vow, or if their wish has fulfilled. Ramdevji took Samādhi in 1459 AD in age of 33 years. The tomb of Shri Ramdevji is worshipped here.

So what's this Walking tour all about.!
People from all over Rajasthan reach here during the Bhadrapada month of Hindu calendar. And almost 60% of the devotees who reach here during the fair come walking irrespective of the distance.

You can see the devotees in above pic walking to the temple. I have seen people come walking to the temple from other states as well including Gujarat, MP, Haryana etc.
Tremendous amount of energy is needed to walk that distance. Though many of my friends used to go to the temple every year. I wanted to experience all that by myself so I decided to go to Ramdevra temple by walk in 2018.
Registration for the group(संघ)

As required, I also registered for the group(called Shangh-संघ). The purpose of this group is to add sufficient number of people to the group. Then this group arranges all facilities for the devotees walking with it.

The group(संघ) Organisers comprises of 10-12 people and a few vehicles. Duty of the organisers is to arrange everything from food, water, medicines to bedding for the devotees registered under it, who are walking to the temple.
The organisers will keep everything ready at pre-decided locations. Our personal luggage is also carried in the vehicles, who are moving with us during the tour.

So after paying the fees, we registered for the group of our area. We were set to leave on the next day afternoon at around 14:00 hrs. The group's name was "Veer Teja Sangh" and had around 230 devotees registered under it's name.

At around 13:30 hrs we all gathered at the place we were to depart from. Our group had one DJ with us moving just in front of the group and playing devotional songs while we are moving.

The waking tour(पैदल यात्रा)
At right time we left for Ramdevra temple. The distance we had to cover was around 205 kms. And as per the route plan provided by our group organisers, we were to reach Ramdevra after 6 days.

It took another one hour to come out of the city and catch the national highway. Being initial stage of the tour our energy level was at its peak, totally unaware of how difficult is it going to be for next few days.

After two hours Of walking our legs started to give away. Everybody had his own pace now. Our group, in which 230 people were walking together when we left, had now fallen apart and had overgrown in 2kms.

I was moving with one of my friend and our speed had almost dropped to zero. It was getting more and more difficult with each and every step.

This was the moment, where we had already completed 14kms of journey. Right now I was cursing myself for deciding to come walking and for thinking it to be that easy.

Our first scheduled stoppage was at a place around 25kms from our home. As the organisers were moving in vehicles. They reached there early and prepared food. The plan was to have dinner, take rest for 2hrs and then start walking again.

Totally exhausted, we reached the scheduled place at 19:30 hrs. It was first time that I walked 25kms in a go. Somehow gathered courage to have dinner and take a small nap.

I don't remember about when did I go to sleep. It was around 23:00 when I woke up and saw only two of my friends were sitting there. They told me that the group had already left, and resumed the journey at 22:00 hrs.


The key is – "Don't quit"
They were trying to wake me up, but i was too exhausted to be woken up. So they were waiting for me to wake up so as to catch-up with the group. Cause our next scheduled stoppage was at 4'o clock in the morning.

Now I must say, this was the most difficult moment. To get up and start walking again. At this moment I even asked my friends that I will quit walking and catch some bus or taxi to reach temple.

But they did not let me take taxi or bus, instead they encouraged to walk a little bit more. And in case it is still not bearable then I can take the taxi. I agreed for that. But after 30 mins of walking again, we were back to normal and not wanted to discontinue the journey.

It's not unusual to get discouraged for the first time, when you have to walk for so long. It's our friends and fellow travellers who encourage and don't let us quit.

The condition of our feet was deteriorating as the days were passing by. At the end of second day, our feet had swollen and started getting numb. We just applied pain reliever gel and were back on the roads.

Our schedules were to walk mostly in the night time and in the early morning time. And avoid walking in the noon time, when it gets more difficult because of the extreme temperature and heat.

The positive thing I felt about walking trip is that, you don't need a mobile or any other gadgets to pass time. In those 6 days I hardly looked at my mobile. So we were totally disconnected from the virtual world and being present in Now was the feeling which I could not have got anywhere else.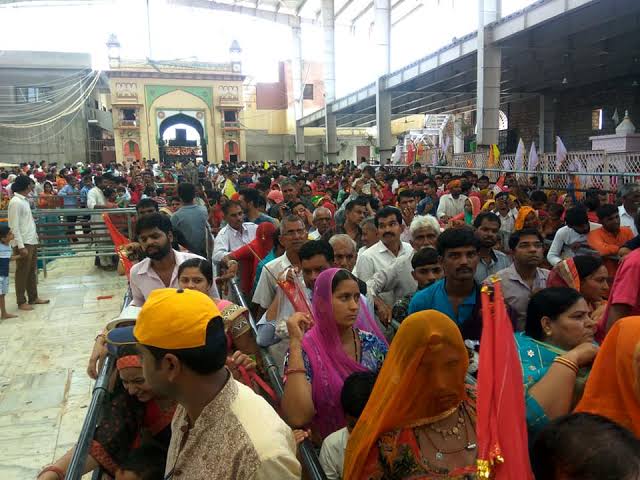 Days passed by, and at the end of 6th day we reached Ramdevra. The queue to the temple was 1.5kms long.
We joined the queue at 20:30Hrs, and got inside the temple next morning at around 08:00hrs.

Ramsagar Talab and Parcha bawdi step-well
There is a big water tank, known as Ramsagar Talab. As per legend Saint baba Ramdev constructed this water tank by himself. It is said that devotees going to the temple must take bath in Ramsagar talab.


A large step well is situated nearby the temple, which is called Parcha Bavori. One wealthy merchant from the village built this step-well on the orders of Baba Ramdevji.

How to reach here
By air: Jodhpur airport is 184kms with good air connectivity to all metro cities.

Train: Ramdevra railway station has good connectivity with all metro cities.

By road: Ramdevra temple lies on the national highway while going from Jaisalmer to jodhpur.

Jaisalmer fort
Gadisar lake
Bada bagh
Patwon ki haveli
Jain temples in Jaisalmer